Watch Video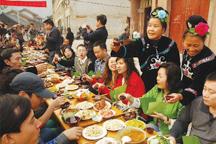 Play Video
As the lunar new year approaches, villagers of the Miao ethnic minority are busy buying supplies and conducting spring cleaning. One very important tradition is the long table banquet. Reporter Xue Jingmeng brings you a taste of the typical Miao feast.
This usually quiet village in Guizhou province is bustling just ahead of the Chinese New Year.
Lao Tang is famous in his hometown. In the 1970s, he went to Beijing to study at the Minzu University of China. To promote the Miao culture of his village, he stayed and worked in Beijing for 7 years. He says he went home to visit every year. And local families would always prepare a sumptuous long table banquet.
This year, temperatures are below freezing in Guizhou. After buying all the banquet ingredients, Lao Tang took us to this fishpond. He told us fresh fish cooked with traditional spices is delicious.
Around 4 o'clock in the afternoon, the long table banquet begins. Lao Tang is the chef.
Lao Tang, Miao Village, Guizhou Province, said, "People of the Miao minority, over the New Year, eat chicken, fish and preserved ham. The chicken porridge is an important one of our traditional dishes. Everyone likes it very much. For Spring Festival, we gather together, and eat well and drink well."
Related stories