Watch Video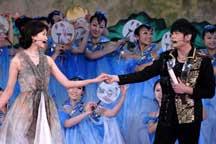 Play Video
Costumes have been created and performances perfected, setting the stage for the CCTV Spring Festival Gala.
A final rehearsal was held on Monday afternoon, where some familiar faces made finishing touches to their portion of the biggest show of the year.
Many new faces will take the stage of this year's gala. Among them are Khalil Fong from Hong Kong and Hsio Ching-teng from Taiwan. Together with mainland singer Li Jian, the trio will team up to display the vigor of youth.
Hsio Ching-Teng, Singer, said, "Very nervous but very expected and this is great fun."
Khalil Fong, Singer, said, "Very nervous and I'm too afraid to forget the lyrics because there are so many people watching. "
Hong Kong singer Joey Yeung and Leo Koo will give a new interpretation of a classic love song. Also performing a duet are Taiwan heart-throb Lin Chin-Lin and the Chinese King of R-and-B, Jay Chow. They will present a mixed program lending the name from China's ancient Sage of Calligraphy Wang Xizhi's famed work "Preface to the Poems Composed at Orchid Pavilion". Lin said that Chow will take charge of the magic part while she will appear as a dancer.
Loyal fans can't wait to watch the year's biggest variety show. The production team has ensured it will be better than ever!