Watch Video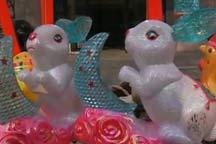 Play Video
The lantern festival is coming soon and preparations are well underway. So, let's take a quick tour around the country to see how people in various cities plan to mark the occasion.
In Chengdu located in the southwest China's Sichuan province, 100-thousand boiled rice dumplings were prepared for the citizens to taste for free on Wednesday. Different fillings and tastes such as earthnut, gingili, and sweetened bean paste provides a delicious treat for folks there.
In East China's Jiangsu province, the market is filled with colorful lanterns in various shapes and styles. The lanterns getting the most attention this year are the rabbit lanterns, as well as the Doraemon lanterns and the Frog Prince lanterns. Whether traditional or electronic, they all add to the festive atmosphere for the coming Lantern Festival.
"Buying a rabbit lantern is a blessing for the year of rabbit."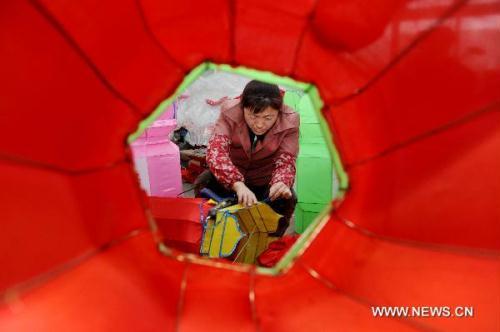 A villager makes lanterns for the upcoming Lantern Festival, which falls Feb. 17
this year, in Yangzhao Village of Yuncheng City, north China's Shanxi Province,
Feb. 9, 2011. The village is known for its lantern production in China.
(Xinhua/Li Lujian)
The lantern festival at Nanhou street in Fuzhou, Capital of Fujian Province, is now bustling with preparation. The Three Lanes and Seven Alleys at Nanhou street are a well-preserved architectural complex of the Ming and Qing Dynasty. This time of year, the area is covered with beautiful lanterns that will be lit on February 13th.
In Taiwan's Kaohsiung, the most awaited and highly anticipated lantern festival will start on February 12th. The fireworks for the festival are known to bring plenty of surprises and fun!
Besides the dances near True Love Pier, the jade rabbit is the main feature for this year's lantern festival. And organizers are already telling folks to look for a long-eared surprise at the end of the fireworks show.
A organizer of Kaohsiung lantern festival said,"The jade rabbit image made by the fireworks will go to different direction according the the wind. It will also be affected by the strength of the wind. So visitors may need to find where the rabbit has gone."
Also, there are 60 thousand small lanterns prepared for little children. The festivities at True Love Pier and Glory Pier in Kaohsiung begin on February 27th and end on the 28th.
Related stories