Watch Video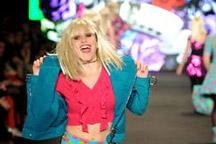 Play Video
New York Fashion Week continues showing designers' fall collections for 2011. The venue again this year is at Lincoln Center. Carolina Herrera brought ultra-feminine clothes with a tailored 1960's feel. Fellow American Betsey Johnson showed bold animal prints. Both looks are especially prominent in the industry for this season.
Carolina Herrera's flattering new wing silhouette has provided evidence of her mastery of the cut. The designer, who was born in Caracas, Venezuela, became a force in American fashion after moving to New York to start her own label in the early 1980s.
Carolina Herrera, Fashion Designer, said, "The collection is for the woman of today. The inspiration comes from a woman who enjoys being elegant and well put together. It's a collection with a very pure line, a little bit architectural but very pure, and with a strong emphasis on tailoring."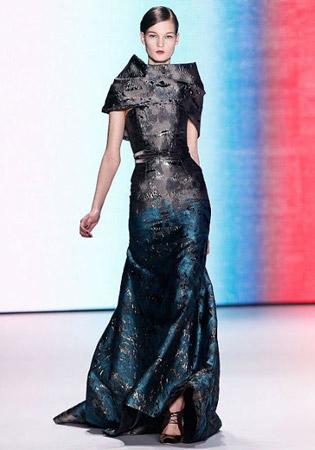 A model wears a creation from the Carolina Herrera autumn/
winter 2011 collection at New York Fashion Week. Photo: GETTY
American designer Betsey Johnson took a walk on the wild side for Fall 2011, but with animal prints seen so commonly this year, no one felt the need to call the fashion police.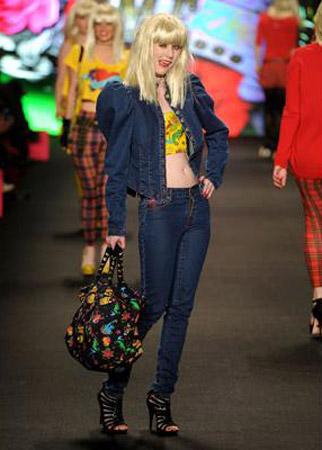 A model walks the runway at the Betsey Johnson Fall 2011
fashion show during New York Fashion Week on February 14,
2011 in New York City.Photograph by:Frazer Harrison, Getty
Images
Johnson is known for whimsical styles fit for a full night of clubbing. But she outdid herself this time with leopard prints in black spots atop colors so loud that they almost roared off the runway. The feline look adorned leotard tops, tights and flirty little dresses.