Watch Video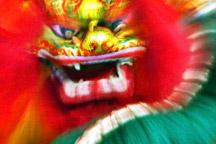 Play Video
Lantern Festival celebrations are underway all around Asia. One example is in Malaysia where Siow Ho Phiew is the chief coach of a hugely successful lion-dancing team. He also designs and makes the lion-heads. The 56-year-old is nicknamed "King of the Lion Dance" and the "God Father" of High-pole lion dancing throughout Malaysia. Our reporter Xiao Xiaowai visited Siow's workshop to take a look at the story behind the tradition.
Siow Ho Phiew is always busy during the first month of Chinese Lunar year, as his Hong Teck Lion Dance Troupe travels around the Malaysian capital, Kuala Lumpur, showing off their skills and spirit of the art, while helping people celebrate the new year.
The Malaysian-born Chinese is also the chief coach of the award-winning Kun Seng Keng team from Muar, Johor. It has won 34 consecutive International Lion Dance Championships.
Though making one lion head is a labor-intensive task and can take up to 30 days to complete, his workshop has made more than 600 pairs in the past year.
Siow Ho Phiew said, "I fell in love with Lion Dancing, and married it. I focus not only on the outside beauty of the lion head, but also the internal design. Malaysia is a tropical rainforest country, and rattan is a local product. It isn't like a Chinese bamboo lion head frame. The rattan is soft and pliable. It can bind itself, it's so tight."
Siow showed us the secret of how a lion blinks its eyes.
Siow Ho Phiew said,"If you pull the string in this way, the eyes will blink, but the ears will not move. If you pull this way, only the ears will move."
Siow has more than one thousand students, including Malays, Spanish and French. He says more than forty of his students can also coach Lion dancing. Siow summed up the spirit of Lion Dancing in eight Chinese character, Loyalty, Correctness, Persistence, Bravery, Wisdom, Honesty, Harmony and Etiquette. He says the "Harmony" of lion dancing is very important.
"Lion dancing is different from martial arts. A man can practice martial arts at home, but lion dancing is teamwork. So we say from inside the troupe to society at large, harmony is the key."
Xiao Xiaowai, Kuala Lumpur, said, "Siow started to learn southern Shao Lin martial arts 38 years ago and improved his skills to perform lion dances with his Kungfu. Lion dancing is like a seed of traditional culture, flying over the ocean. What Siow says is true: Lion Dancing originated in China, but is flourishing in Malaysia."
Editor:Yang Jie |Source: CNTV.CN