Watch Video
Play Video
Hollywood is gearing up for its most important night of the year, the 83rd Annual Academy Awards. And this year's ceremony features some special changes as well as traditional Oscar favorites. Crystal Fisher reports from the red carpet.
Lights, Camera, and tons of action fill the red carpet at the Kodak Theater in Los Angeles.
Famed director Rachid Buochareb speaks about his nomination for best foreign language film.
Rachid Bouchareb, Director of Oscar-Nominee, said, "Hollywood is and the Oscars are really the epicenter of world cinema, so it's really an honor to be here."
Industry folks hold the golden statue we call Oscar in the highest regard
Dom Mischer, Event Producer, said, "For many of the people that are going to win on Sunday night this could be the highlight of their lives."
James Franco holds his award for best male lead for his role in "127 Hours" at the 2011
Film Independent Spirit Awards in Santa Monica, California February 26, 2011. (Xinhua/
Reuters Photo)
And nothing in Hollywood is more glamorous than the night Oscar goes home with just a lucky few. To keep it fresh acclaimed event producers Don Mischer and Bruce Cohen along with Academy president Tom Sherak announce some modern changes. New this year, scenic transitions.
Bruce Cohen, Event Director & Producer, said, "A variety of times throughout the show we'll be leaving the Kodak theater in 2011 not literally but metaphorically and artistically and we'll be taking the audience to a different time place different event. I mean one example is that this year is the 10th anniversary of the animated feature so when we give out the two Oscars for animated feature and animated short we transition the stage to far far away from Shrek because Shrek won the first animated Oscar ten years ago. "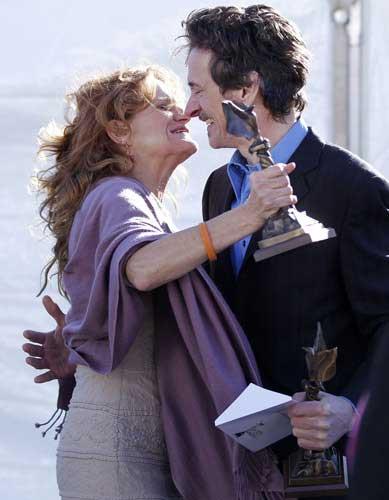 Actress Dale Dickey (L), winner of the best supporting female award
for the film "Winter's Bone," hugs actor John Hawkes after he won
the best supporting male award for the same film at the 2011 Film
Independent Spirit Awards in Santa Monica, California, February 26,
2011. (Xinhua/Reuters Photo)
This year the awards will be co-hosted by two of the youngest in academy history, James Franco and Anne Hathaway.
Related stories