Watch Video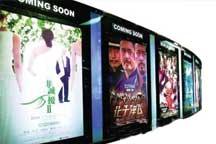 Play Video
The domestic movie box office thrived in 2010. A variety of films combined to gain a total box office return of more than 10-billion yuan, which is an amazing 60 percent growth compared to the year before. Along with the prosperity comes the question: do robust box office returns mean industry-wide success?
Made-in China films were present, but not counted in the main competition of the 61st Berlin Film Festival, which wrapped up more than a week ago. Although, the latest efforts by Chinese directors Zhang Yimou and Chen Kaige were screened, they were only introduced at the event outside of the competition.
The same thing happened at the Academy awards this year. "Aftershock," a highly anticipated film by director Feng Xiaogang, didn't make it on the list for the Best Foreign Film Award. But back in China, the big screen blockbuster won over audiences who offered up more than 660-million yuan at the box office, which is indeed impressive.
So, what seems to be the problem?
"Aftershock" tells the story of the earthquake in Tangshan more than 30 years ago. A young mother of two is forced to give up her baby girl to save her son. And ever after, that cruel decision changes the destiny of the whole family.
Feng Xiaogang, Director, said, "I say what it's worthy of saying in my movie. They all come from our natural lives."
The western world of movies seems never short of such touching stories. Although "Aftershock" is packed with stunning visual effects, made possible by a team of computer experts from South Korea, this type of movie is still less mature when compared with western films.
If we take a look at the domestic film industry last year, it turns out that all the box office winners came from established directors like Feng Xiaogang, Jiang Wen, and Chen Kaige. And actor Ge You, talented as he is, appeared as the lead in each of their year-end movies.
Ge You, Actor, said, "I just happened to be in all year-enders. There are so many talented actors out there."
Indeed, there are a lot of talented actors. But those with a box office draw seem to be few.
According to statistics, more than 460 films were produced in 2010, among which around one fourth got the chance to be screened in cinemas. Some of the rest were confronted with the harsh reality of barely breaking even.
But there's good news, too. Some small budget films grabbed a considerable share of the market. "Lost on Journey", with only an investment of 8-million Yuan, earned a robust box office return of over 40-million Yuan, surpassing all expectations.
Such examples also include "Go Lala! Go!" and animated film "Pleasant Goat and Big Big Wolf."
Movie pundits are confident of the future. They predict that within 5 years the domestic box office return will reach 30-billion Yuan, and that will make China the second largest movie market in the world.
Winning big at the box office means something, but surely that's not enough to gain a nod at international competitions. Compared with the mature mechanism of the western world of movies, China's film industry still has a long way to go.
Li Xiang, Beijing, said, "The road ahead is bumpy still, but it's paved with opportunities. There's a lot of homework to do before Chinese filmmakers know how to play the game and make their voices heard on the international stage."
Editor:Yang Jie |Source: CNTV.CN