Watch Video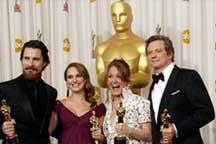 Play Video
"The King's Speech" was crowned best picture at the Academy Awards ceremony, with the royal drama leading as expected with four Oscars. And in this 83rd occurrence of Hollywood's biggest night, predictable favorites consistently claimed acting honors.
Oscar voters reverted to history, pomp and tradition this time.
"The King's Speech" won Best Picture, the Best Original Screenplay for David Seidler, Best Director prize for Tom Hooper, and Best Actor for Colin Firth as the stammering British ruler George VI.
Colin Firth, Best Actor, said, "I have a feeling my career has just peaked. I'm afraid I have to warn you that I'm experiencing stirrings somewhere in the upper abdominal which are threatening to form themselves into dance moves."
The Israeli-born former child star Natalie Portman won Best Actress as a delusional ballerina in "Black Swan."
Among those Portman beat was Annette Bening nominated for "The Kids Are All Right." Bening has now lost all four times she's been nominated.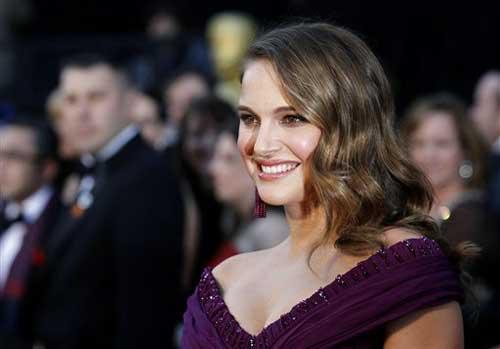 Actress Natalie Portman arrives before the 83rd Academy Awards on Sunday, Feb. 27,
2011, in the Hollywood section of Los Angeles. (AP Photo/Matt Sayles)
Natalie Portman, Best Actress, said, "Thank you so much. This is insane, and I truly, sincerely wish that the prize tonight was to get to work with my fellow nominees. I'm so in awe of you."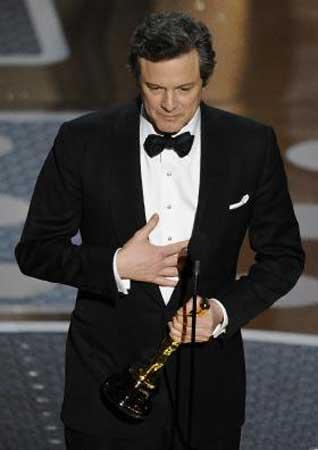 Producers and cast of "The King's Speech" accept the award
for best picture at the 83rd Annual Academy Awards on Feb.
27, 2011, in Los Angeles.(Credit: Getty)
Boxing drama "The Fighter" captured both supporting-acting honors. To accept his statuette, Christian Bale had to leave Shanghai where he has been working with China's top film director Zhang Yimou on "Nanjing Heroes."
The Oscar for adapted screenplay went to Aaron Sorkin for "The Social Network," a chronicle of the birth of Facebook based on Ben Mezrich's book "The Accidental Billionaires." "The Social Network" also won for musical score for Trent Reznor and Atticus Ross, and for film editing.
The sci-fi blockbuster "Inception" tied "The Kings Speech" with four Oscars, all in technical categories: visual effects, cinematography, sound editing, and sound mixing.