Watch Video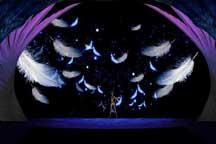 Play Video
"Jing Wei Tian Hai" is a traditional Chinese fairy tale of a young girl who saves the world. And the China Puppet Theater will put on a new puppet show based on this story called "Legends of Jing Wei."
"Legends of Jing Wei" is inspired by a popular Chinese fairy tale, a story about the ancient agricultural god, Shen Nong, and his daughter Jing Wei. Shen Nong found various seeds for crops in order to let people plant their own food, but a flood destroyed the farmland. His daughter Jing Wei dedicated her life to saving the land, and the people were able to feed themselves again.
Zhao Yongzhuang, Director of China Puppet Theater, said, "We spent more than 1 year adapting the inspirational story into a new puppet show for the kids. We also put a lot of effort into stage design. The stage features not only beautiful feathers and projections of the sea, but also high-tech methods in visual arts."
The show will hit the stage in May this year. Meanwhile, the theme song singer will be selected from a nationwide children's singing competition.
Editor:Yang Jie |Source: CNTV.CN