Watch Video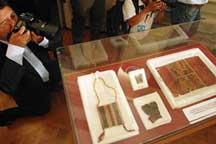 Play Video
Ninety-eight stolen archaeological pieces were officially returned to Peru's Culture Ministry on Wednesday. This is a joint effort alongside Peru's Foreign Ministry to get the authorization from the US and Argentina, where the items were located.
Among the pieces returned to Peru on Wednesday were ceramics, stone artifacts, textiles and even human remains from pre-Hispanic cultures.
Also retrieved were elements from the portico of a 16th century church.
Most of these pieces had been located in different US cities such as Houston and Cleveland.
Fourteen of them were seized in the city of Cordoba in Argentina.
Nestor Popolizio, Peru's Vice Foreign Minister, said, "With this activity we formally end the recovery of 98 pieces that should have never left Peru. Their illegal exit was an attack against our history and our cultural patrimony. Therefore, I must insist that their recovery was a constant worry and a constant task for our foreign ministry and our embassies and consulates around the world."
The effort by both ministries has allowed Peru to retrieve over five-thousand historical items in the past four years.
Peru has also signed 30 bilateral agreements with countries all over the world concerning the retrieval and repatriation of illegally obtained art pieces.
One of Peru's major successes in this area was when Yale University recently announced that it will send back to Peru thousands of Incan artifacts removed from the famed Machu Picchu citadel nearly a century ago.
Related stories
Editor:Yang Jie |Source: CNTV.CN