Watch Video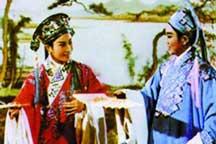 Play Video
A night of Shaoxing opera at the Shanghai Grand Theatre on Thursday was paying tribute to one of the opera genre's most beloved artists: Yuan Xuefen. Contemporary performers from Shanghai and neighboring Zhejiang province were assembled for the memorial concert.
At the concert, representative works from Yuan Xuefen's decades-long career were reinterpreted. Each of the plays marked an important footprint in her lifelong exploration of reforming the one-century-old opera.
Zhao Zhigang, dubbed "Prince of Shaoxing Opera", brought a segment from "A Dream of Red Mansions". As one of the very few male artists, Zhao wouldn't be able to stand on the stage without Yuan's calling for breaking the opera's female-performer-only tradition.
Mao Weitao, a top artist from the birthplace of Shaoxing Opera, Zhejiang, cooperated with one of Yuan's students, Fang Yafen.
"We want to show that generations of performers will always remember Yuan Xuefen and her achievements. If she can watch us from somewhere in heaven, she should know that we are trying our best to maintain and develop the art. " said Mao Weitao, a performer of Shaoxing Opera.
Yuan Xuefen started her Shaoxing Opera career in 1933. The great performing artist died on February 19th this year in Shanghai at the age of 89.
Editor:Zhang Pengfei |Source: CNTV.CN