Watch Video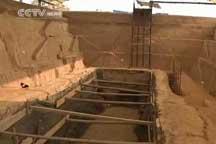 Play Video
The cluster of 14 family tombs of the ancient general Zhang Anshi was built with a complex process of excavating, constructing, and filling.
Now the tombs function is not only seen as important evidence showing the high level of civil engineering of two thousand years ago, it also functions as some valuable material evidence of the complexity of ancient funerals.
The basic layout of the cemetery is laid bare before the archaeologists after the excavation work is completed.
Jiao Nanfeng, who is the researcher of Shaanxi Archaeology Research Institute said "They first dug a large four-square pit with the four chambers all in the shape of a square. Its shape is just like the common ploughing fields in China. Then a straight route stretches out as an underground cuniculus."
Archaeologists say the existence of the underground road signifies the high social statues of the tomb owner. Tombs of common people will not have such a road.
The tombs boasting the greatest number of such underground roads discovered so far is four. But those only appear in the graveyards of emperors and imperial families.
Archaeologists say that the finding is important in many aspects. From the pounded earth filling in the tomb chamber, to the outer coffin chamber. It was in this outer chamber where archaeologists found a series of traces that might be used by to reconstruct the original earth-pounding and construction techniques.
Most significant among them are regularly distributing holes and impressions that were formed after the decay of the ropes and the wood chocks. The average diameter of the ropes ranges from one to two centimeters.
Remains of a drainage system have also been found inside the tomb complex. They are located in the northeast section of the side room No.1 of the main tomb M8.
Editor:Zhang Pengfei |Source: CNTV.CN