Watch Video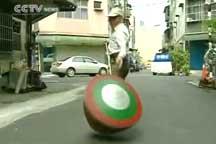 Play Video
"Whipping top" is a traditional game dating from ancient times that still enjoys great popularity in southern China. The residents in Daxi, Taiwan used to play whipping tops as kids, and the town itself is famous for producing king-sized versions of the toy. But these days, there's only one craftsman in town that can make them.
Mr Yang Chin-Lu started making tops some 30 years ago, and he still does it in the traditional way with his hand-made steel knife. The solid, waxy camphor wood has been Mr Yang's choice for making tops, especially the giant-sized ones.
"The camphor wood is hard and waxy. The more you play, the better it will be, and the tops are stable enough to maintain their shape for years." said Mr Yang.
Back in the 1960's, when children in Daxi were obsessed with whipping tops, someone came up with the idea to try making a 5-kilo top that outweighs most of the regular ones. As time passed, the creative Daxi people even made giant tops weighing around 50 kilos, making their manufacture a unique tradition on the island.
Mr Yang used to be a taxi driver and winner of the local top whipping competitions. He enjoyed it so much that he even tried to make tops on his own. Unexpectedly, he found a hidden talent as a craftsman.
"I was so into whipping tops. I learned it all by myself from playing to making, and this has been going on for years. But sadly, I haven't heard anyone making giant tops anymore nowadays. I guess I'm the only one left." Yang once expressed.
As more up-to-date technologies become involved in the toy-making industry, children's toys became complicated and expensive. But maybe it's the simplicity of whipping tops that keeps it alive. Whipping tops have been listed as an official category of folk sports competition on national level, and more youngsters are finding it fun to play.
Editor:Zhang Pengfei |Source: CNTV.CN