Watch Video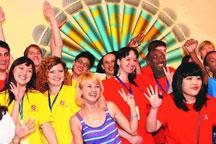 Play Video
In Europe, the Chinese language has been regarded as difficult and hard to understand, but now more and more people around the world have begun to learn Chinese. As China's international status is rising, foreigners want even more to learn Chinese and understand China. Ma Jiadan is a Russian girl who has been studying Chinese at Beijing Foreign Studies University for more than eight months. Xue Bing went to meet her.
Meet Ma Jiadan. She is 22 years old. Nine months ago she came to China to study Chinese.
At first, she was taking a lot of time every day to learn Chinese, and now, she already can speak Chinese quite well.
Ma Jiadan, Foreign Student, said, "I like Chinese, I think Chinese is very pleasant, very beautiful. When I began to learn Chinese, I felt the writing was so difficult, so I spent more than 5 hours a day practicing, and now I do not think it is so hard."
Although in her opinion, pronouncing words correctly is still quite a headache for her, she does pretty well. In her class, there are other foreign students that do as well as she does. They come from different countries, but all of them are interested in learning Chinese.
"I come from Egypt, was born and raised there, although my parents are Chinese, but I cannot speak Chinese, so I think it is necessary to learn it. Now I have been studying Chinese for two months. Frankly, I think Chinese is hard to learn. But I still want to learn with all my energy, because in Egypt, people who speak Chinese well, can find a nice job more easily." Ma said.
Ma Ke, Foreign Student, said, "I have been studying Chinese for 8 months. I feel that Chinese is like a riddle. It's very interesting, and Chinese can help me understand Chinese culture. Beijing not only provides an environment to learn the language, but also there are many interesting places, such as the Great Wall, I've been there eight times."
It is said that, now there are nearly 3,000 colleges and universities in more than 100 countries with Chinese language courses. Nearly 50 million foreigners are studying Chinese and has the fastest-growing number of students. Across the world, the number of people who have taken China's HSK, or the Chinese Proficiency Test, increases 45 percent every year.
Zhang Hong, Associate Professor of School of Chinese Language and Literature, said, "I've been teaching foreign language for 24 years. As you see, these students are enthusiastic. Although learning Chinese is not easy, and students from different countries encounter different difficulties, they learn very happily, because Chinese friends, Chinese historical sites and Chinese food are very attractive to them. And Chinese language will be a favorable condition when they look for jobs, they will have more chances."
Zhang also said that this year, students of his university come from over 40 countries, they learn with undivided attention, and achieve good results.
"Like the earlier phenomenon of "enthusiasm for English" more and more foreigners have begun to learn Chinese, and then understand Chinese history and culture. The growing "enthusiasm for Chinese" not only reflects the continued growth of the Chinese economy, the upgrading of soft power of Chinese culture, but also proves the significant improvement of China's international status." Xue Bin, CCTV, Beijing reports.
Editor:Zheng Limin |Source: CNTV.CN