Watch Video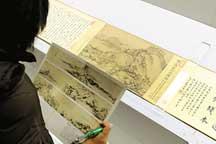 Play Video
"Dwelling in the Fuchun Mountains" is ranked as one of the ten best paintings in Chinese history, and has had enormous influence on later ages.
But why is the timeless masterpiece torn apart and housed in two different places? You might find the story quite intriguing.
Painted by Huang Gongwang of the Yuan Dynasty some 660 years ago, the legendary hand-scroll depicts an idealized panorama of the Fuchun mountains, west of Hangzhou.
Buildings, tree limbs, and foliage are reduced to the simplest of forms as Mother Nature has been translated into the artist's terms of brush and ink.
Pan Gongkai, head of China Central Academy of Fine Arts, said, "Every line in the painting seems to have been drawn casually with ease and grace. We can hardly say the stones or the trees in the picture look exactly the same as those in the real life. But if you enjoy the work by stepping backward a little bit, you'll find it's so vividly true to life. The elaborate use of brushes and ink give a subtle portrayal of the Chinese landscape."
"Dwelling in the Fuchun Mountains" had been sought after by generations of Chinese literati and celebrities. Wu Hongyu, a well known collector of the Ming Dynasty who once acquired the masterpiece, treasured it so much that he demanded it to be burnt after his death.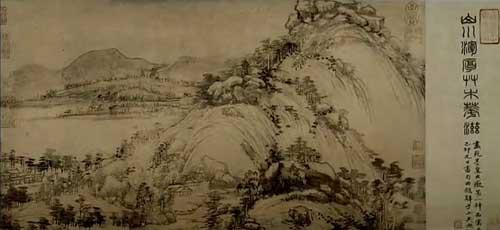 Part of "Dwelling in the Fuchun Mountains"
Fortunately the painting was saved from being burnt to ashes. But it was torn into two pieces due to the fire. The two parts were then collected by various people of the following generations and ended up being housed by Zhejiang Provincial Museum in the Chinese mainland and Taipei Palace Museum respectively.
In march 2003, Chinese Premier Wen Jiabao voiced his hope at the NPC session, saying he hoped to see a complete painting to be placed together forever.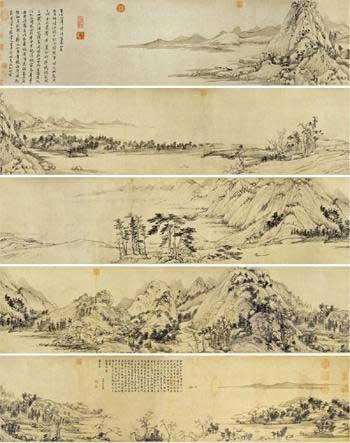 The other part of "Dwelling in the Fuchun Mountains"
Editor:Liu Fang |Source: CNTV.CN