Watch Video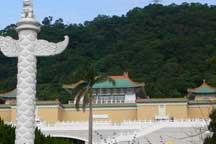 Play Video
Both sides across the Straits are excited about the reunion of "Dwelling in the Fuchun Mountains".
Now, let's get an update on the preparation work being conducted to welcome the other piece of the painting at the Taipei Palace Museum.
According to officials from the Taipei Palace Museum, the display of top-notch exhibits usually lasts no longer than 40 days. But this time around the joint exhibition of "Dwelling in the Fuchun Mountains" will run for two months, in accordance with its cultural significance.
Ho Chuan-Hsing, chief curator of Painting & Calligraphy, TP Palace Museum, said, "The official opening ceremony of the joint exhibition will be on June 1st. The show will then run from June 2nd through July 31st. And after the exhibition, the priceless masterpiece will be kept out of the public eye for a while to have a good 'rest'."
Ho adds that details of every possible work, including the promotion of the exhibition, transportation and communications of both sides have been confirmed.
Besides "Dwelling in the Fuchun Mountains", 12 other pieces ranging from paintings to calligraphy works that are closely associated with Huang Gongwang will be displayed as well.
Editor:Liu Fang |Source: CNTV.CN