Watch Video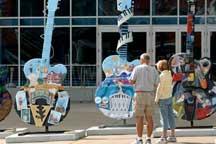 Play Video
Nashville, Tennessee mayor Karl Dean wants to capitalize on the momentum surrounding his city through a music council he set up shortly after his election in 2007.
The council has drawn together more than 60 artists and industry executives to find ways to leverage Nashville's unique position as "Music City."
Though it seems like an obvious partnership, rarely have city leaders and the music industry joined together in such a concerted way. Council members are focusing resources on four areas to improve the city's economic development track record - building the Music City brand and attracting jobs, growing the live music scene, attracting creative talent to Nashville, and improving public education music programs.
Karl Dean, Nashville mayor, said, "The idea of bringing people together to form a music council really came from the sense that we needed as a city to make sure that we show the music industry that we appreciated them and wanted them to be in Nashville and to grow and expand in Nashville, and also wanted to show an appreciation of our brand as Music City, that Nashville is a special place because of music. It is so important to our identity. It is so important to our economy, and it's so important to the character of the city that promoting music, helping the community expand is clearly, I think, in the city's best interest."
There are more than 80 record labels, 100 live music venues, including the iconic Ryman Auditorium and Grand Ole Opry House, 130 music publishers and 180 recording studios.
So, Nashville isn't doing bad by any measure. But city and music industry leaders think the city can do better. The music council has invested hundreds of thousands of dollars so far in creating partnerships in key areas of music technology development, making the city more inviting for business, musicians alike and music education in public schools. That is along with millions in advertising and promotion, meant to keep Music City ahead of a pack of ambitious competitors like Austin, which bills itself as the "Live Music Capital of the World," and Seattle, the self-dubbed "City of Music."
Major rock and pop acts have emerged from Nashville in the past few years including Taylor Swift, Kings of Leon, Paramore, and Ke$ha, among many others. Jack White of The White Stripes moved to the city from Detroit a couple years ago to set up his record label Third Man Records.
Mayor Dean awarded White with the city's first ever Music City Ambassador award last month to recognize his efforts in bringing the most international attention to the Nashville music industry over the past year.
Editor:Liu Fang |Source: CNTV.CN