Watch Video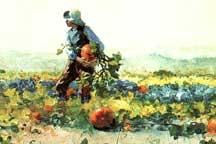 Play Video
Using laser and nano-technology, scientists in Chicago have been able to go back in time and uncover how masterpieces from artists like Homer and Van Gogh might have looked when they were first painted.
Starting off with Winslow Homer's painting - "For to Be a Farmer's Boy", today the painting shows a sky devoid of color. But 125 years ago, it depicted a beautiful sunset.
Francesca Casadio, conservationist of Art Institute of Chicago, said, "Art works are living things and they interact with the environment and they age and degrade the same way as, unfortunately, we do. So there is this natural evolution and this is definitely very apparent with pigments for example, some of the colors don't look today as the artist intended them to be."
Casadio and chemical scientists at Northwestern University are using Surfaced Enhanced Raman Spectroscopy, or SERS, to digitally restore masterpieces of Homer as well as some by Van Gogh and Renoir to their original state. The technique shines laser light to identify the original paint molecules from a sample smaller than a tip of a needle.
Richard Van Duyne, chemistry prof. of Northwestern Univ., said, "Molecules do a little dance and each molecule dances differently and by looking at this scattered light you can actually measure the number of them and tell which molecules they are."
Van Duyne discovered the SERS technique in the late 1970's and has been perfecting it ever since. According to him, every molecule on the Earth has a different raman signature - like a nano-sized fingerprint. Once the scientists identify the molecules that comprise the missing colors, they can re-create the art in digital form. They also stress they would never use the new knowledge to touch up the original works.
Francesca Casadio said, "You would never go about painting it over because it would be your interpretation, you would be playing Van Gogh and who can do that, right? But with computer science and digital technology more and more here at the Art Institute we are doing this digital restoration, virtual restoration and these are extremely powerful. It is really your marriage of Science and Art and Computer Science because then we can give that back to art historians and make them see and they have this 'Ah Ha' moment."
Richard Van Duyne and Francesca Casadio say they feel like crime scenes investigators. Now, they want to take their experiment to the next level. To test art now, they have to shave off a tiny spec of a painting and bring it to the lab. In the near future, they want to bring the lab to the painting.
Richard Van Duyne said, "My vision of the future is a Raman camera that you take a picture of the Mona Lisa and in every pixel of your camera is that Raman spectrum and you can therefore read out, line by line, point by point, the chemical composition of the Mona Lisa."
Both scientists say over the years, great artworks will fade, but thanks to Science, the artists' vision will last forever.
Editor:Liu Fang |Source: CNTV.CN