Watch Video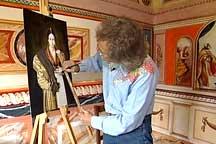 Play Video
Robert Burns is a 62-year old retired decorator living in a rented council house in Brighton in the UK. He has transformed his home into a replica of the Sistine Chapel, covering every wall and ceiling with painted frescoes inspired by the original. Sound amazing? Well, let's take a look.
From the outside it looks just like a ordinary, drab 1960's house, much like any other on the terraced street. But inside, tenant Robert Burns has transformed his rented council home in Brighton into a stunning look-alike of the world-famous Sistine Chapel. The frescoes are inspired by 15th Century works by famous Italian painters and come complete with gilt-edged nativity scenes and portraits of the virgin Mary.
Robert Burns said, "So, I started studying them. I thought 'well, I'm a decorator. Surely, this can't be too difficult.' And this is where I started from. And I actually started on this wall which, now I think, looks a bit amateurish and I was gonna paint it out. But Linda (his wife) said: 'Well, leave it'."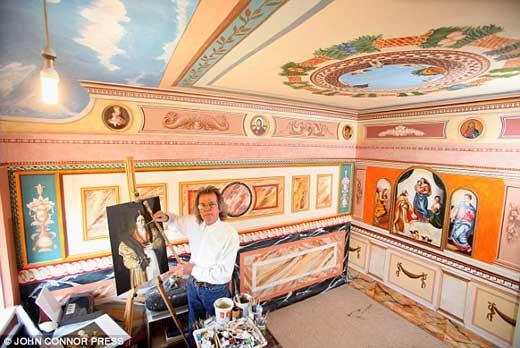 Inside his council flat, Robert Burns has created something that represents the Sistine
Chapel
It took Michelangelo four years to paint the Vatican's famous Sistine Chapel mural. But Mr Burns, who has never been to Italy to see the original masterpieces, relied on coffee table books picked up at garage sales to mimic the famous frescoes. Drawing on his skills as a retired decorator, he has spent the past eight years turning his 86 pounds per week rental property on the outskirts of the East Sussex town into an astonishing Renaissance-style masterpiece.
Linda Burns, Robert Burns' wife, said, "It's wonderful. It's like living in a stately home. And most people have to pay to visit something like this."
Mimicking the life of Renaissance artists, Burns' recreation has become the talk of the neighborhood. Now, he hopes to start his own daytime TV show so he can teach people how to do their own Renaissance makeover.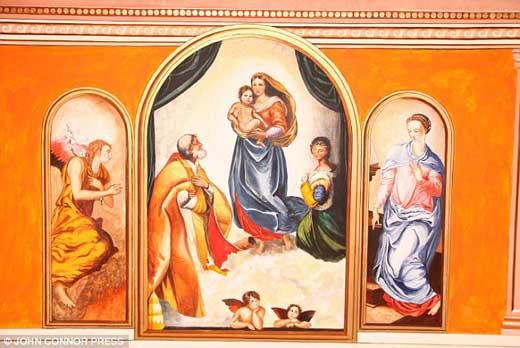 His work is painted onto plaster so when he and his wife move out they can't take it
with them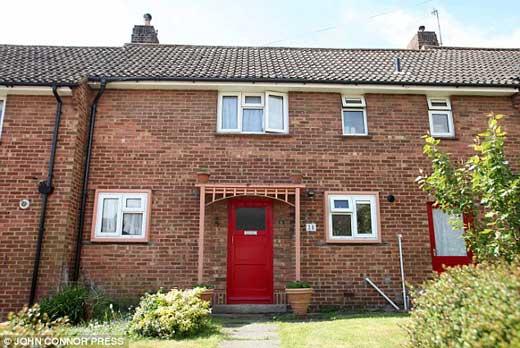 Unsuspecting: The terraced house looks like any other on the street
Related stories