Watch Video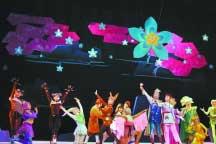 Play Video
China Children's Art Theatre is celebrating its 55th anniversary. On Wednesday night, a charity performance was presented to children whose parents are busy migrant workers in Beijing. Hitting the stage is the latest episode adapted on China's ancient classic "A Journey to the West."
The adventure of Monkey King is one of a few selected repertoires that are staged in nine major cities from south to north in China. From ancient Chinese legends to western fairy tales, performers are sharing the joy of the theatre's 55th birthday.
China Children's Art Theatre was founded in 1956 on June 1st, the International Children's Day. Since then, the theatre has never changed its service theme: all for children.
Li Wang said, "My hobby is playing musical instruments and drawing. I never came to a theatre before. I know the story of Monkey King but I've almost forgotten it."
Zhang Yanjie said, "I brought my kid to enrich his experience. I don't have an particular intention. I just hope that watching a performance could open his eyes on art. "
Zhou Yuyuan, director of China Children's Art Theatre, said, "Creation is the key to produce a popular performance among the little audience members. We should move forward with the new era and make changes that cater to the demands of children. We present today's audiences with some traditional shows that were popular when their parents were children. We also stage new shows with creative adaptations from stage to costume to attract youngsters. "
The theatre also has a closer collaboration with China's famous children's literature writers and cartoonists like Zheng Yuanjie and Zhu Deyong. Popular children's play director and companies from abroad have also been invited to make a joint effort.
The 2009 production inspired by China's 12 zodiac animals is one successful hit in and outside China. Without any dialogue or monologue, the play has been staged in Japan, South Korea, Vietnam and Australia and its next plan is a tour in Mexico and Europe.
Last year, the theatre broke its record of staging 500 performances. About 100 are free. It's been a tradition for the theatre to bring their art shows to remote and poverty-stricken areas. Another 100 are staged outside the capital.
Coming up after the 55th birthday celebration, the Children's Art Theatre will kick off its first Drama Festival from July 16th to August 28th in Beijing.
Editor:Liu Fang |Source: CNTV.CN