Watch Video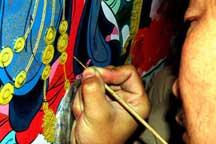 Play Video
China's first law for the protection of intangible cultural heritage, or ICH, went into effect on Wednesday. In conjunction with the milestone, a variety of activities are being held across the country to celebrate the occasion. Let's have a look.
The ongoing International Festival of Intangible Cultural Heritage in Chengdu, capital city of southwestern Province of Sichuan, saw a rich array of folk songs and dances as well as folk art exhibitions being put on display.
The center stage is at the Intangible Cultural Heritage Expo Park, the first of its kind in China.
On its wall of its main hall inscribed the article of the "Convention for the Safeguarding of the Intangible Cultural Heritage", passed by UNESCO in 2003.
On the wall of the second floor is the chronology concerning China's first law for the protection of Intangible Cultural Heritage.
The Expo Park is designated as an all-year-round platform to manifest various items of China's intangible cultural heritage, such as traditional Chinese medicine, folk operas, and various handicraft techniques.
In Kunming, capital of Southwest China's Yunnan Province, the national intangible cultural heritage display is underway. The seven-day event congregates altogether 26 items of folk heritage, including dough and clay figurines and wood-block prints.
Local folk artists of Yunnan also put on a good show of their own heritage. The traditional techniques of silver, bronze and pottery works are on display.
Travel east to Shandong Province, a folk art museum has opened in the city of Binzhou on Wednesday to mark the enforcement of the intangible cultural heritage law.
The museum founder is the 63-year-old Zhang Hongqing who has been collecting and compiling folk heritage for more than 30 years.
The museum boasts more than four-thousand exhibits and eight halls with each display featuring a special form of folk art, such as paper cutting, clay figurines, or embroidery.
Editor:Liu Fang |Source: CNTV.CN