Watch Video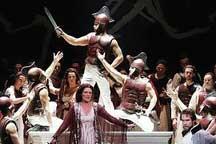 Play Video
"Aida" is a classic opera tale of love, betrayal and honor set in ancient Egypt. As our Middle East correspondent Stephanie Freid reports, the Israel Opera decision to kick off their open air season with "Aida" was a well-timed choice in light of current regional themes.
As the world watches the Arab Spring unfold, Israel's opera is launching its summer season with an apt production. Aida by Giuseppe Verdi is a romantic story of unrequited love between an Ethiopian princess and an Egyptian military commander as their countries go to war.
First performed in Cairo in the late 1800's, it opens at the foot of Israel's Masada fortress this month. Principal opera members say they feel a sense of perpetuating history as they perform Aida at this locale.
Kristin Lewis said, "In this place it's special because this is about themes that are timeless and ageless: Namely, undying love and the fact that love conquers all."
An opera written by an Italian and set in ancient Egypt is perfectly at home at an ancient Israeli desert fortress. Masada rises 450 meters above the Dead Sea and was built as a refuge by King Herod around 36 BCE. In 70 CE, a thousand Israelites barricaded themselves atop the plateau to stave off Roman invaders. As troops approached, they opted for mass suicide rather than be taken prisoner by the Romans.Today Masada is a magnet tourist attraction and a site of historic pride for Jews.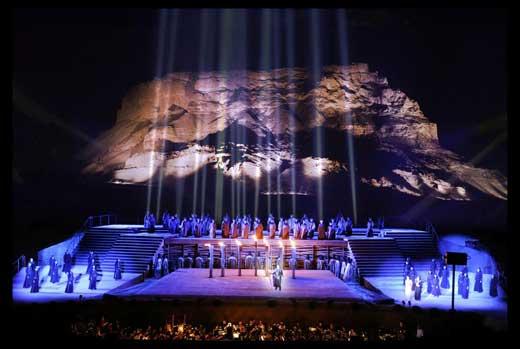 The Israel Opera decision to kick off their open air season with "Aida" was a well-timed
choice in light of current regional themes.
Hanna Munitz, Israeli Opera director, said, "We are co-producing this opera here with France and one day we hope to be able to co produce operas with neighboring Jordan and Lebanon if the situation in this area ever quiets down."
It took 2500 production employees two months to build this stage at a cost of more than four million dollars.
Producers anticipate all seven thousand five hundred seats will be occupied each night of the opera's 6-night run - a larger turnout than last year's first run at this venue.
For opera lovers, every bit of time, energy and money invested is well worth it.
An opera fan said, "Anything that brings people to this spot and tourists from outside of the country to opera and to Israel is a good thing."
Onstage, where the magic happens, lavish sets and the desert canyon backdrops add to Aida's appeal.The opera has been remade on film and re-written for the stage by Elton John and Tim Rice.Here at Masada, a canopy of stars and warm breeze add to the allure.
War. Love conquers all. Conflict. Loyalty to one's nationality. These are all themes played out in Aida made all the more significant by virtue of the opera being performed here, at this spot. For performers and attendees, the opera's message combined with Masada's history make these performances particularly impacting.
Editor:Liu Fang |Source: CNTV.CN