Watch Video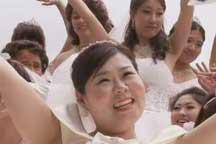 Play Video
Nestled in the heart of the Bavarian Alps, Neuschwanstein is the ultimate fairytale castle. But last week, it became the backdrop for dreams of dozens of Chinese couples, as they said "I do" at a mass wedding ceremony.
The young couples travelled to Europe from China, where they were recently married officially at home, and decided to participate in the mass wedding as part of their European travels.
In the courtyard of a nearby monastery, St Mang, in the town of Fuessen, the couples swore to spend the rest of their lives together. To fit the setting, they chose to wear traditional western wedding attire.
Ahead of the ceremony, each bridegroom got down on his knees and presented his "future wife" with a wedding bouquet, before going inside the church to take their vows.
Waiting for them inside were look-a-likes of King Ludwig II of Bavaria, the man who commissioned the castle and who was known as the fairytale king, and Sissi, Elisabeth of Bavaria, who was Empress of Austria. The two actors welcomed the couples and then sang for them.
All the couples taking part said it was an experience they would never forget.
Meng Ran and bride Fang Wen, said, "We feel great. It is so romantic and we are very happy. I think we will remember this moment our whole lives."
Cha Li-O and bride Chau Dang, said, "We didn't want a traditional ceremony like in China. We wanted to do something different. That is why we chose Germany for the ceremony. We are enjoying our sweet honeymoon and a very fun trip."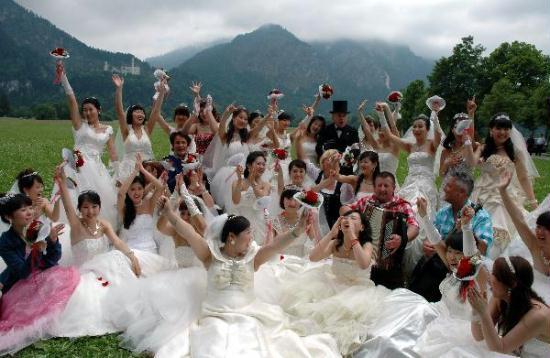 Chinese brides taking part in a collective wedding event pose for photographs in a field in
front of New Swan Stone Castle in Fuessen, south Germany, on June 3, 2011. A total of 31
couples from north China's Tianjin Municipality held a collective wedding on Friday at New
Swan Stone Castle, one of the most popular travel destinations in Europe.(Xinhua/Wu Mei)
All of this is part of a package offered by the "Royal Wedding Service", run by Peter and Rita Steiger from the Bavarian town of Fuessen.
For the past 14 years, they have been offering the service, which started off aimed at Japanese couples. Year by year it became more international with couples from all over the world signing up. This is the fourth time that a group of Chinese couples have taken part in the mass wedding.
Neuschwanstein castle was home to King Ludwig the second of Bavaria, a shy king who had the elaborate castle built as a place for him to withdraw from public life. It was constructed in the late 19th century and was finally opened to the public after Ludwig's death in 1886.
It is reported to have been the inspiration for Walt Disney's fairytale castle.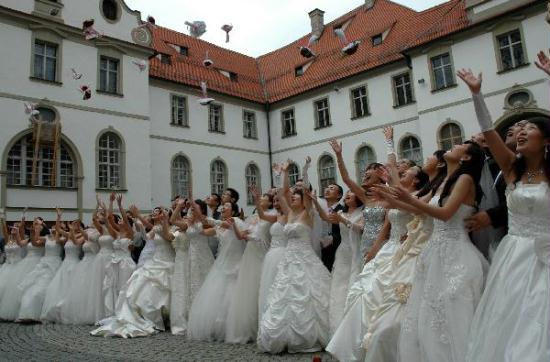 Chinese bridal couples taking part in a collective wedding event throw flowers into the air
at New Swan Stone Castle in Fuessen, south Germany, on June 3, 2011. A total of 31 couples
from north China's Tianjin Municipality held a collective wedding on Friday at New Swan
Stone Castle, one of the most popular travel destinations in Europe. (Xinhua/Wu Mei)
Related stories