Watch Video
Play Video
A few days ago, we brought you a report about German musicians that make instruments out of junk. Well today, we want to tell you about a Chinese artist who turns ordinary cabbages into beautiful art works.
Ju Duoqi goes to the vegetable market in Beijing to stock up on cabbages. But instead of using them to cook, the 38-year-old artist transforms the humble vegetables into works of art. Often, they depict beautiful women that leave little to the imagination.
Ju says she started using vegetables in her work five years ago when she was looking for a way to bring her art together with everyday life.
She often spends hours in the market picking out cabbages that reflect the curves of a woman's body, or that can be cut to make limbs or accessories.
Back in her studio on the outskirts of the Chinese capital, Ju uses knives and toothpicks to reshape the cabbage leaves to resemble different parts of the body and arranges them into sculptures.
Different stages of decomposition - fresh, rotten or dry - create different effects.
Ju Duoqi said, "Cabbages come in different sizes and colors. Under different light and in different contexts, I can make cabbages into various forms and take photos of them that produce different moods."
But much of the magic comes in the camera work.
After taking pictures of different parts of the cabbage woman reclining on the desk, Ju reconstructs her piece by piece using editing software.
Sometimes a piece can take weeks, other times, just days.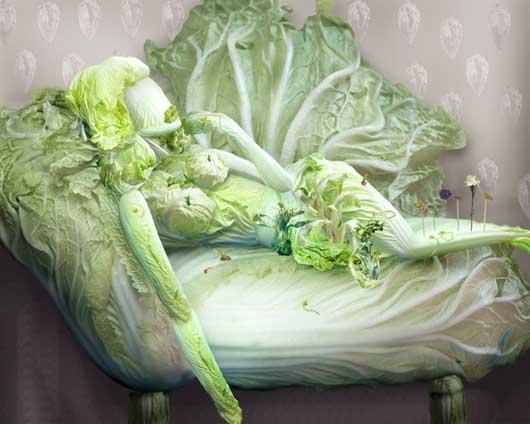 Ju Duoqi's work
Ju said, "My creation is not a recording of reality. I use photography to create something new. As my works are all different from one another, each one requires a different amount of work in post production."
In a high-end gallery in Beijing, tourist Zhang Yong said he was became an instant fan of the vegetable art.
Zhang Yong, tourist, said, "The cabbage lady looks very graceful. The artist makes full use of the cabbages to shape the different parts of a woman. It is both very vivid and delicate."
Ju's cabbage beauties series have been shown in Beijing, London, Paris, Los Angles and Miami and the limited edition prints sell for 2,000 to 3,000 euros or about 2,900 to 4,300 U.S. dollars each.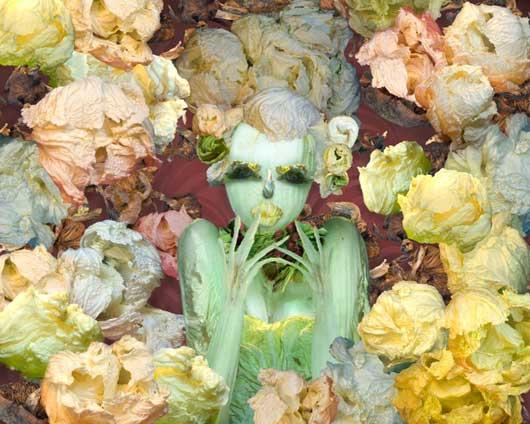 Ju Duoqi's work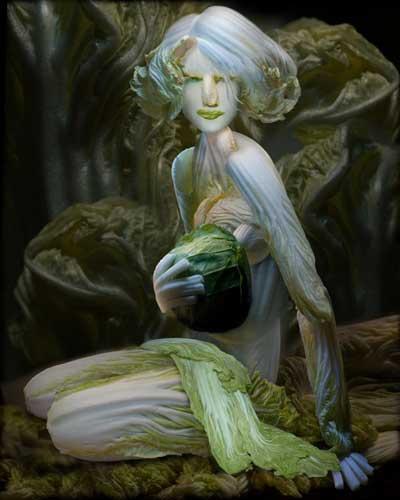 Ju Duoqi's work