Watch Video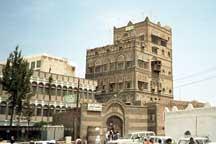 Play Video
The National Museum of Yemen may not be the oldest one on the Arabian Peninsula, but it's certainly one of the best.
Set in the heart of Sana'a City, Yemen's capital, the former Yemeni Imam Palace was converted into a resort of national treasure in the early 1970's.
The ground and first floor contains a breath-taking collection of statues, figurines and other artifacts from the pre-Islamic Kingdoms of Saba and Hadramawt. The second floor concentrates on the medieval Islamic period, while the top floor features a slightly less rewarding mishmash of stuffed lions and Sana'a's ethnic collections.
Abdul-Aziz Al-Jandare, director of National Museum of Yemen, said, "The Eagle and Snake symbol carved into the monument is the symbol of the Kingdom of Saba, which was about 1 thousand years ago. This was found in the city of Marib, and it is the most precious item of the whole museum's collection."
The "Eagle and Snake" symbol means a lot to the Yemani people. The Eagle represents the nation and its power, while two snakes stand for the enemies. The combination sends the message of the nation fighting its enemies for the people, which is also the origin of Yemen's current National Emblem.
Comparing to other museums all over the globe celebrating the World Museum Day, no special moves are taken in Yemen's National Museum. However, the director still holds an optimistic attitude towards the summer, which is usually the tourists' favorite season. Meanwhile, experts continue putting their efforts into researching Yemen's National Heritage.
Editor:Liu Fang |Source: CNTV.CN