Watch Video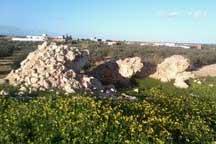 Play Video
Let's continue our world tour in the beautiful countryside of Norba in Italy -- a place that has great appeal for both paragliders and archaeologists.
The archaeologists are here to excavate ancient Roman ruins, but the pilots are the ones who get to enjoy the best view.
Swooping high above the countryside with the freedom of a bird.
Paragliding lovers from all over Europe flock to these hills near Rome to fly over the ruins of ancient Norba - a former Roman settlement.
And while the pilots are relishing the fabulous views from above, far below them archaeologists using brushes, syringes and sponges are delicately restoring the ancient city.
Norba is an archaeological site 70km Southwest of Rome, situated on a cliff 400 meters above sea level which allows perfect conditions for paragliders to fly in warm winds all year round.
A bubble of warm air rising from the earth - a so called "thermal" - is what the paragliders have discovered on the same embankments the Romans chose to build their city in 492 B.C.
The warm airflow inflates the colorful canopies, shaping them into wings capable of soaring great distances and at high altitudes.
Klaus Moschko, paraglider pilot, said, "With the height you could see all the ruins and the picture of this former Roman station here on Norba impressed me very much."
Modern technology allows pilots to fly over the 25-century-old massive stone walls of Norba, destroyed in 81 BC during the Roman republic civil war between Marius and Sulla. It was never rebuilt.
Norba is considered the Pompeii of the Roman Republic age.
It was love at first flight for most of those pursuing the dream of the mythical Icarus, the first time they took off from everyday life for freedom and happiness. And of course, for great fun and beautiful landscapes.
Norba is arguably a must-stop venue for enthusiasts of the sport, attracting around 5,000 pilots every year.
While paragliders with heavy packs march up the hills, archaeologists continue their steady excavation efforts, painstakingly unearthing and restoring ancient roads and houses creating a book of history that only paragliders have the privilege to read from the sky.
Editor:Liu Fang |Source: CNTV.CN