Watch Video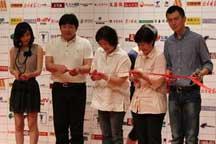 Play Video
Now staying with the Festival, let's look a the situation with domestically made films, which are being heavily promoted this week in Shanghai.
In fact, the Chinese films screenings were the main event of opening day. And some became the nominees for the Movie Channel Media Awards.
One-hundred-plus films have signed up to vie for the nomination for the Media Awards, a record number in the award's history. Eventually, nine films including "The Seal of Love" and "Mr.Tree" won the nomination.
During the seven-day event, the Media Awards will hand out a total of ten awards, including Best Film, Best Director and Best Actor and Actress.
Launched in 2004 by the Movie Channel of China Central Television, the Media Awards are now in its 8th edition. The awards are appraised and selected by media people nationwide. Over the years, the awards have put an emphasis on promoting the medium-and-small-budget films and new actors.
Huo Jianqi, director of "The Seal of Love", said, "Film has both commercial and artistic functions. The small-budget films often stand out for its high artistic quality. Such awards gave these film rare opportunities to be watched and known."
The Awards will be handed out at a ceremony on Saturday.
Editor:Liu Fang |Source: CNTV.CN