Watch Video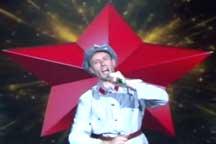 Play Video
And down on Hainan Island in the South China Sea, many foreigners have settled and now call this charming tropical place home. Today, let's meet one British man who has built a life and family in Sanya, Hainan. Iain Inglis came to China after falling in love with a Chinese girl. Now, he is somewhat of a local celebrity for his ability to sing Chinese revolutionary songs.
The singer, 29-year-old Iain Inglis from the United Kingdom, is known in Sanya because of his performances of Chinese songs, especially those with revolutionary themes, known in China as "Red Songs."
Iain Inglis, Englishman living in Haiman, said, "It was in 2003 that I first heard of 'Red songs'. It was my first trip to China. I was keen on Chinese history, so as I traveled around China, I went to a video store for 'red songs' albums. I bought a CD and in 2004, I learned how to sing 'Socialism is Great.'"
"Sanya once held a small scale Red Song Singing competition. I registered after reading a poster. Surprisingly I got fourth place. I was happy with that." Iain Inglis said.
He had just won the 5th place at the China National Red Song Competition held in Nanchang, capital of southeast China's Jiangxi Province. Among thousands of professional contestants, Iain was the only non-Chinese national.
As the old saying goes "One minute on stage, is ten years of practice off stage.. " In order to perform better, Iain kept practicing his singing and dancing skills off stage repeatedly. Holding a white turban on his head, wearing a sheepskin vest, and dancing a northern Shaanxi Yangge dance, Iain appears like a Shaanxi farmer.
Iain Inglis smiles when being asked why he sings Chinese revolutionary songs. For him these are not politics, but an opportunity. On stage, he is a humorous, energetic and versatile singers. And off the stage he lives a colorful life.
Love can overcome bias and cultural differences. Now Iain has plans to deepen his roots in the place that brought him luck and love, and he sings this song for his second home.
Editor:Zheng Limin |Source: CNTV.CN