Watch Video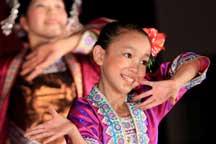 Play Video
Friday marked the 90th anniversary of the founding of the CPC. To celebrate the big day, singers and dancers of several ethnic minorities gathered together at the Guangxi Museum of Nationalities to express their best wishes for the CPC.
With the singing of "Beautiful brocade of Zhuang nationality", the Zhuang people's happiness during their manual labor and the joy of their life were fully expressed.
Yao and Maonan ethnic folk songs describe local people's appreciation for the Party.
Gelao and Mulao folk songs demonstrate people's enthusiasm for the Party.
Editor:Liu Fang |Source: CNTV.CN