Watch Video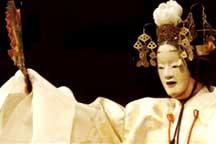 Play Video
Next up, we have a traditional Japanese performing style, a China-based story, and an English-language script.
Believe it or not, these seemingly irrelevant elements have been incorporated in a single play. That's the contemporary Noh play "Pagoda" that was staged on Monday night at Beijing's National Center for the Performing Arts.
Noh, derived from the Japanese word for "skill"or "talent", is a major form of classical Japanese musical drama that has been performed since the 14th century. Its most distinguishing characteristic is its masked performers.
Just like other ancient performing arts, Noh is falling away from mainstream theatre scene. But there's just no stopping the relentless efforts of artists who want to sustain and promote it.
The latest result is "Pagoda", a brand new noh play performed in English, pushing the art form to a new edge. The play is created and performed by the Theatre Nohgaku, an international company comprised of members based in Japan and North American.
The theatre founder Richard Emmert, who has been living in Japan for forty years, believes there is a universal side with Noh.
"Pagoda" is written by British playwright Jannette Cheong. It is rooted in the story of the author's grandmother who sent her son, Cheong's father, away to sea when he was a young boy to avoid the famine that ravaged China's rural coastline areas in the 1920s.
"Pagoda" was premiered in 2009 to packed houses in London, Dublin, Oxford and Paris. This is the first Asian tour of the play, and will include stops in Tokyo, Kyoto, Beijing, and Hong Kong.
Editor:Liu Fang |Source: CNTV.CN