Watch Video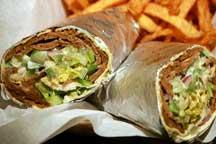 Play Video
You may have seen signs that say "Turkish Doner Kebab" while in China, or just about anywhere else in the world. But today, why not travel to Turkey with us, and experience the most authentic Turkish snacks on the streets of Istanbul?
"Doner Kebab" literally means "rotating kebab" in Turkish. Chunks of lamb, beef or chicken on a stick rotate in the vertical position over an open fire. Though people around the world eat doner kebabs with different side dishes such as French fries or salads, the authentic Turkish way to enjoy a kebab is to wrap the sliced meat in pita bread with tomato, onions, spices and mayonnaise. Eaten this way, it is recognized as Turkish people's favorite snack.
Moving on, Kokorec is a dish of lamb or goat intestines that usually are wrapped around seasoned offal, including sweetbreads, hearts, lungs and kidneys. Cooks clean the intestines thoroughly before chopping them. Next, they are stir-fried with peppers and spices, and served in a baguette.
A tourist in Istanbul said, "The intestine sandwich is really delicious, and the best thing about it is you can buy it everywhere on the streets. It's the best snack while wandering in night markets."
After your meat craving is satisfied, it's nice to have some ice-cream for dessert. With extra milk in the ingredients, the typical Turkish ice-cream called "Dondurma" has two unique qualities: its texture and resistance to melting. It's commonly sold from street carts, and vendors often tease the customers by serving the ice-cream cone on a stick, and then taking away the cone with the stick and rotating it around, before finally giving it to the customer.
Editor:Liu Fang |Source: CNTV.CN