Watch Video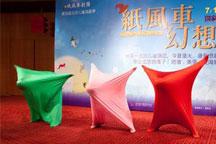 Play Video
The 2011 Beijing Children's Opera season is in full swing with a series of fantastic performances. Part of the on-going festival is "First mile kid's smile" presented by a Taiwan art group. Now, our reporter Xue Jingmeng takes you to look at their performances.
It's paradise for children in Beijing. With 6 different scenes, the actors are interpreting 6 stories about every day life around us.
"Now, the children get more interactive activities in the world of Internet. We hope to offer them more arts inspiration through this kind of theatre, and help them to face society and growing up."
In order to find out more secrets behind the theatre, we interviewed one of the actors. She's been performing with the group for about 10 years.
"We have performed these pieces for many years. This time, we take the core part to Beijing."
Combining music, dancing, and multimedia elements, the actors use body language to portray events from our daily lives.
"This is the second time that the arts group comes to Beijing. They try to present the spirits of love and creation to the audience through humorous stories."
The Paper Windmill Theatre has been to New York, Paris, and Hong Kong during its 19 years of establishment. And in Taiwan, 1 in 5 children have seen their performances.
Editor:Li Wanran |Source: CNTV.CN