Watch Video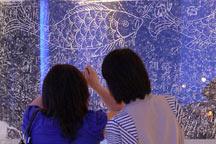 Play Video
An old stone carving of three Chinese characters, "Bai He Liang," which literally means "White Crane Ridge," is located along the upper reaches of the Yangtze River. It sits near the Three Gorges Dam, close to Chongqing Municipality.
In order to preserve the relic, the Baiheliang Underwater Museum was built, with construction finishing in 2009. But the site is now temporarily closed until September, so it can be renovated, while a World Cultural Heritage Site application is prepared.
Baiheliang is a 1600-meter-long, 15-meter-wide, natural ridge on the Yangtze River's northern bank. On the huge rocks are 18 sculptures of fish that serve as level markers, and have recorded 1,200 years of changes to the waterway.
It is believed to be the world's most ancient hydrographic survey device, and is one of four state-level national treasures in the Three Gorges area.
Since the museum's opening in April, 2010, more than 300-thousand visitors from over 20 countries and regions, have come to visit this cultural relic.
This summer's temporary closure was ordered to reconstruct the facility's environment, and greatly enlarge the exhibition hall, to reach a total area of 2,500 square meters.
Not only will the environment of the hall change, but the content of the exhibitions will also gain more variety, better presenting the ancient relic's contributions to water conservation.
Meanwhile, an application to the United Nations, to get the Baiheliang Underwater Museum listed as a World Cultural Heritage Site, is under preparation as well. Organizers expect it to be completed while the renovations are carried out.
Editor:Li Wanran |Source: CNTV.CN