Watch Video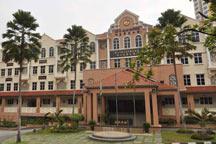 Play Video
Malaysian Chinese are an important part of the Malaysian community. They have always made efforts to teach the Chinese language, and play an active role in promoting Chinese culture in the country. Recently, the China Association for Educational Technology has donated a rich collection of film and documentary resources to the Chinese schools in Malaysia.
It is said that independent Mandarin-oriented schools number more than 2-thousand primary schools and 60 middle schools. Most of them rely on donations from Chinese communities in south Asia. The course work at these schools aims to arouse students' interests in Chinese traditional culture.
Lei Zhenxiao, professor of China Assoc. for Education Technology said, "I am really impressed by Malaysian Chinese education. So many institutes and individuals are taking the responsibility of succeeding and spreading Chinese culture despite a very limited budget. When I read their textbooks, I had this idea of supporting them with a collection of useful video materials."
The donation includes Chinese traditional poetry, classical literature, science documentaries and educational cartoons. These teaching resources are highly prized by local educators in Malaysia.
Zeng Gui'an, an educator in Malaysia said, "For years we've been experiencing financial problems, and some independent schools were forced to shut down. I am beyond grateful that Professor Lei brought these video materials to us, and I hope that introducing them into the curriculum can stimulate Chinese education in Malaysia."
Professor Lei picked about 55 hours of video materials. During the donation ceremony, he chose "Prelude to Water Melody" as a demonstration lecture. Since multimedia tools have become part of mainstream education, Professor Lei hopes that these films and documentaries will make it easier and enjoyable for Malaysian Chinese students.
Editor:Li Wanran |Source: CNTV.CN