Watch Video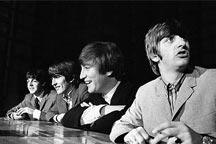 Play Video
Never-before-seen photos of the Beatles' first U.S. concert, which took place in Washington D.C. in 1964, have brought in more than 360-thousand US dollars at an auction in New York. A Christie's spokesman said the final bid was more than three times original estimates.
The images were taken by a teenage photographer at the Washington Coliseum on February 11th, 1964, just days after the band's historic appearance on The Ed Sullivan Show.
The pristine, black-and-white photographs, which had been stored in a box for 45 years, chronicle The Beatles appearances in Washington, D.C. and Baltimore.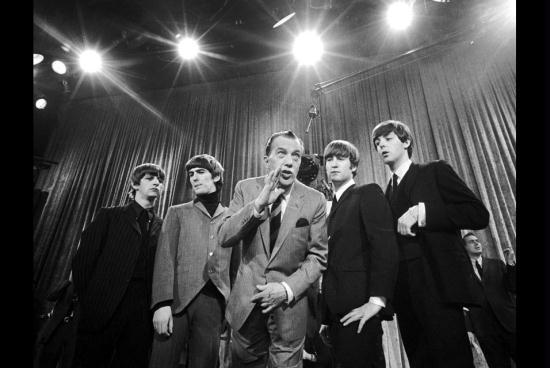 Ed Sullivan, center, stands with The Beatles during a rehearsal for the British groups first American appearance, on the Ed Sullivan Show, in New York on Feb. 9, 1964. From left: Ringo Starr, George Harrison, Ed Sullivan, John Lennon and Paul McCartney.
Washington teenager Mike Mitchell, then 18, was on hand at Union Station when the Beatles arrived and documented the shrieking hysteria of their fans.
Mitchell also shot the pre-concert press conference and was positioned at the stage for the entire Coliseum show. Months later he documented the Beatles concert at the Baltimore Civic Center.
Mitchell's top selling photo was an image of the band members photographed from behind with each of their heads encircled in a thin halo of light. The image sold for 68,500 US dollars including buyer's premium.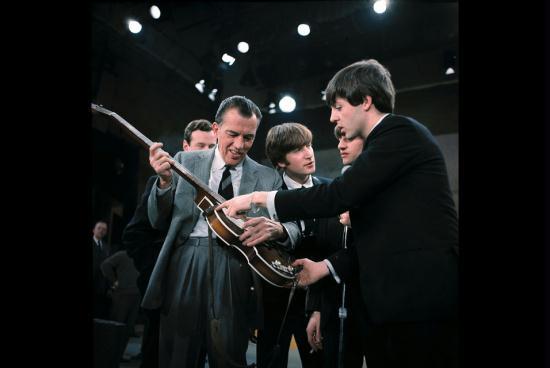 Paul McCartney, right, shows his guitar to Ed Sullivan before the Beatles live television appearance on The Ed Sullivan Show in New York City, Feb. 9, 1964. In the center are, John Lennon, left, and Ringo Starr, partial view. AP Photo.
Photographer Mike Mitchell said, "You know when I took that photo I don't think I even knew it. I didn't even remember it until I cracked into the negatives five or six years ago and found it. It had been overlooked because it was so underexposed that with traditional photographic methods it could never have been printed. So, I could resurrect it because of digital technology."
Mitchell's photo collection captures rare, intimate moments with the band, who still have legions of fans looking for memorabilia.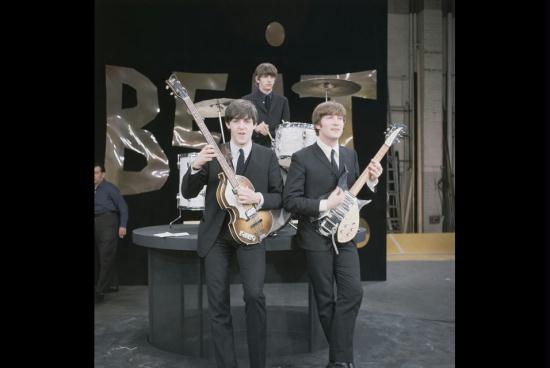 In this Feb. 9, 1964 file photo, The Beatles perform on the CBS Ed Sullivan Show in New York. Ringo Starr plays drums and playing guitars from left are Paul McCartney and John Lennon.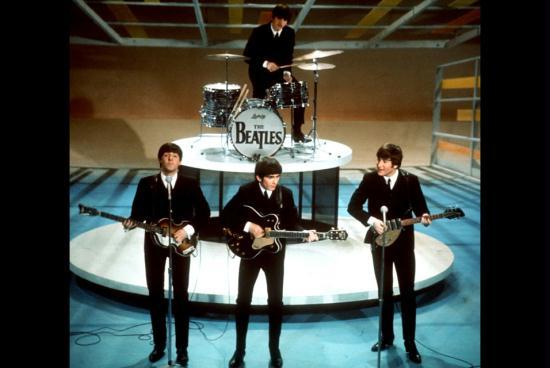 The Beatles are shown on the set of the Ed Sullivan Show in New York. In back is Ringo Starr; the others, from left to right, are: Paul McCartney, George Harrison and John Lennon. AP Photo.
Editor:Li Wanran |Source: CNTV.CN