Watch Video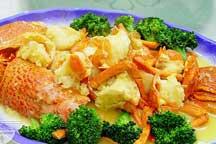 Play Video
A variety of delicious smells are wafting their way across Shenyang city in Liaoning Province. It's all because the China Food Festival and International Food Expo has gathered together gourmet chefs and hungry eaters to showcase the charm of Chinese cuisine.
Over the past 11 years, China Food Festival has been developing into one of the biggest and most influential events in the country's food and restaurant industry. This year the festival is focusing on healthy food and living a green lifestyle. There is also a Chinese cuisine culture show and a Chinese culinary skills demonstration.
Han Ming, president of China Hotel Asso., said, "All the food we selected for the festival are specialties from around the nation. They stand out from various food fests and are the best of the best."
The festival features several activities that allows visitors to binge as they browse. There are live food-making demonstrations, free sample deliveries, healthy dishes on display, and even a wedding banquet show.
Lang Yue, visitor, said, "I just took a look at a lot of food stuffs. They all seem beautiful, even like delicate works of art."
Besides Chinese dishes, the festival has also pulled some international elements together, creating a food culture exchange platform.
Editor:Liu Fang |Source: CNTV.CN