Watch Video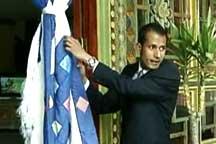 Play Video
With its growing international profile, the Tibet Autonomous Region is fast becoming a magnet for foreigners who are seeking to build a life here. Today we meet a young man from Nepal who is running a Tibetan-style hotel in Lhasa.
The 27-year-old Raju is General Manager of the Tibet Manor Hotel in Lhasa.
Raju entered the hotel business back in his native country, Nepal. When he was offered a job in Tibet, he was immediately interested although he knew little Chinese or about the region.
Now he is familiar with every corner of the hotel, which features a distinctive Tibetan decor.
Raju, general manager of Tibet Manor Hotel, said, "You see this drape is painted with two colors that Tibetans love most: blue and white. The colors represent the sky and clouds in Tibet. Also, you can see Tibetan paintings, or Tangka, everywhere in the hotel. "
Raju arrived in Tibet in 2006, the year the Qinghai-Tibet railway went into service. Convenient transportation to the area spurred on Tibetan tourism.
Raju realized he was in time for a golden springboard for his career.
Raju said, "Many visitors started to arrive in Tibet after 2006, which created an opportunity as well as a challenge for the hotel business. On one hand, we are able to profit from the booming tourism. But on the other hand, the visitors put forward higher demands of the hotel service. A comfortable accommodation is no longer all they are asking for. Yet the distinctive decoration and knowledgeable staff are also very important to them."
Just as every young man of his age, Raju used to aspire to colorful experiences in different places. He went to stay in Shanghai for a couple of weeks when he received a job offer there.
But he came back to Lhasa after all, explaining that the simpler life and warmer relationship between people here fit his nature.
Now Raju is concentrating on building an outstanding Tibetan hotel highlighted with Nepalese service.
Editor:Liu Fang |Source: CNTV.CN