Watch Video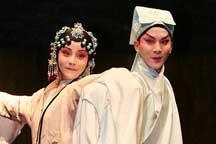 Play Video
2011 marks the ten-year anniversary since Kunqu opera was listed as a World Intangible Cultural Heritage. After a decade of protection, the 600-year-old theatrical art is no longer seen as a dying art form. Kunqu is now rejuvenated with fresh faces, both on and off the stage.
A dialogue across the ages.
Twenty year old Lu Fang was not a fresh face to the stage, but is certainly a new one to Kunqu.
Lu Fang, junior student of National Academy of Chinese Theatre Arts, said, "I studied Peking Opera for the past 10 years and performed extensively. But I only began to learn Kunqu a couple of years ago. I find the Suzhou accent very difficult to master."
On Tuesday night, Lu joined her teacher Gu Weiying in a performance celebrating the tenth anniversary of Kunqu's entry onto the World Intangible Cultural Heritage List.
Two excerpts were on offer, "Touring the Garden from the Peony Pavilion," and "Small Banquet from the Palace of Eternal Youth." The parts are believed to epitomize the sophistication of Kunqu.
Gu Weiying, kunqu performer, said, "The two characters are the most famous in the role of Dan. One is a gentle woman in a big family, the other an imperial concubine, proud and full of wisdom. Through my performance, I hope people get a taste of the exquisite art form."
Most of Kunqu operas have survived for centuries. They are the cream of operas, and reflect the profound Chinese culture. Kunqu strikes me with a sense of both distance and familiarity. It offers me an experience I cannot get from the fast-paced lifestyle of today.
But up until twenty years ago, this was not a widely appreciated art form. In the difficult times of 1990s, Kunqu was rejected for its slow rhythms, redundant customs and abstruse lyrics.
It almost fell into oblivion.
Zhang Jingxian from Shanghai Kunqu Opera Troupe has survived the dilemma. As a veteran performer, and tutor of Gu Weiying, Zhang has witnessed the considerable changes over the past decade.
Zhang Jingxian said, "Since 2001, the Ministry of Culture has allocated funds for Kunqu troupes, offering training courses, holding Kunqu festivals, and setting up archives of Kunqu operas. There are support efforts from both the top and from the grassroots levels."
Kunqu is now learned and practiced in theatres, courtyards, and classrooms.
And it is in the fresh faces of Lu Fang and her fellow enthusiasts, that Kunqu has found a new life.
Editor:Liu Fang |Source: CNTV.CN