Watch Video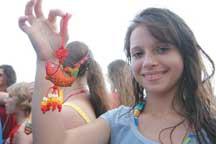 Play Video
Elementary and middle school students from Russia just ended their summer camp in Beijing. Over a three-day period, the youngsters got a first-hand experience of Beijing's history, culture and life.
In this middle school in Chaoyang district of Beijing, Russian students are trying hard to speak Chinese. Their Chinese buddies jumped in to help. Here, youngsters are exposed to a wide-variety of traditional Chinese crafts by making their own kites, Peking-opera masks, and clay figurines. Outside, another group of Russian students are learning martial arts and how to kick shuttlecocks, kungfu style.
"I never studied martial arts before. I learned a lot about martial arts from watching TV and films, for example, Jackie Chan, Jet Li. I love their films. It's amazing that I actually get to learn about martial arts here," said a student.
In addition to learning the crane pose, the Russian youngsters visited the Great Wall, Bird Nest, and the Forbidden City. For some, this was not only their first time in China, but also outside of Russia. The red walls and yellow tiles made a great impression.
Students from Russia make kites at Beijing No. 80 Middle School on Aug.2, 2011. On that day, 450 students from Russian primary and middle schools came here to participate in a friendship exchange with Chinese students by taking part in some programs, such as learning Chinese calligraphy and kung fu as well as making Chinese knots and kites. (Xinhua/Jin Liwang)
"Russian and Chinese architecture are very different. Russian buildings use a lot of stones, but the architecture here is very intricate and elegant. It makes me want to touch it," said a student.
The students are amazed by the size of the Forbidden City and try to take in as much as possible during their three-day visit.
"Everything about Beijing is just so beautiful. I really want to stay and live here. When I leave, I will take with me the laughter and friendship of the people here back to Russia," said a student.
Before they go, the youngsters expressed their exuberance and gratitude for their Chinese friends in songs and pirouettes.
Students in the summer camp learn folk dance at Beijing No. 80 Middle School on Aug. 2, 2011. On that day, 450 students from Russian primary and middle schools came here to participate in a friendship exchange with Chinese students by taking part in some programs, such as learning Chinese calligraphy and kung fu as well as making Chinese knots and kites. (Xinhua/Jin Liwang)
Editor:Liu Fang |Source: CNTV.CN