Watch Video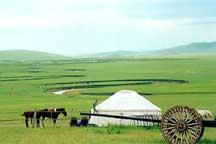 Play Video
Inner Mongolia Autonomous Region is attracting droves of adventure-seeking tourists with its distinctive landscape and culture. The ethnic minorities in the region possess cultural characteristics that seem to fascinate most tourists. Tourism is thus becoming a new driver for economic growth.
The Singing Sand Ravine located in Ordos of Inner Mongolia, is one of the region's hottest tourists destinations. And few would leave without being wowed with a spectacular stage show: Ordos Wedding.
Based on the local traditional matrimony ceremony, "Ordos Wedding" offers a tantalizing glimpse into the lives of Mongolians. It is also a fantastic display of beautiful Mongolian clothing.
"Ordos Wedding" was first choreographed and staged in 1992 by the Art Troupe of Singing Sand Ravine. In the past decade, the show has been constantly enriched to satisfy the increasing demands of visitors.
Now, with over seventy performers involved, the one-hour-long show is performed for some six rounds on a daily basis.
Ha Di, artistic director of Art Troupe of Singing Sand Ravine, Ordos, said, "We intend to develop 'Ordos Wedding' a famous brand for local stage. It could be a fascinating start for visitors who are eager to learn about Mongolian culture."
A vast area, Inner Mongolia contains a bounty of tourism resources, such as forests, grasslands, deserts, and lakes.
And the local government has capitalized on the advantages by organizing a slew of festivals and events.
Data shows tourism revenue in Inner Mongolia surged 28 percent year-on-year over the past five years.
Ma Yongteng, deputy director of Inner Mongolia's Tourism Dept., said, "We are striving to develop tourism into a strategic pillar industry in Inner Mongolia, increasing people's income and improving their livelihoods by beefing up the industry."
Ma also points out that it is important to prevent any rush to expand tourism when preserving local people's traditional lifestyle is a priority.
Editor:Liu Fang |Source: CNTV.CN