Watch Video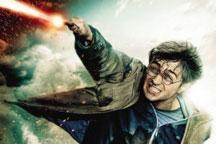 Play Video
The final Harry Potter movie - "Harry Potter and the Deathly Hallows" part two - premiered appropriately at mid-night on Thursday in Beijing.
The 8th installment ends the ten-year marathon of the series, which turned out to be one of the highest grossing movie franchises in movie history.
Fervent Potter fans swarmed into the Broadway Cinematheque in downtown Beijing in the late of Wednesday night, for the China premiere of Harry Potter's last movie. Many celebrated the occasion by dressing up the way the bespectacled boy on the silver screen does.
Harry Potter Fan, said, "We grew up watching and reading the Harry Potter series. It's the premiere of the series' final chapter today. We must come here to draw a period to our long-lasting enthusiasm for the characters."
The last installment of the Potter Franchise, the trio of Harry, Ron and Hermione return for the one last stand against the evil forces that threaten to take over the Wizarding and Muggle worlds.
The final chapter of the Potter movies distinguishes itself from previous sequels for its stunning 3-D effects.
Although "Deathly Hallows" marks the end of a magical era, many loyal Potter fans say that the magic still lives on and will continue to influence their lives.
Harry Potter Fan, said, "The people here are Potter's contemporaries. It's through the Potter movies that we got to know each other, made friends, and we all learned something from each episode, like how to overcome obstacles and how to express ourselves."
"Harry Potter and the Deathly Hallows" part two is sweeping cinemas around the country, aiming at securing the lion's share of the movie market this summer.
Editor:Zhang Pengfei |Source: CNTV.CN