Watch Video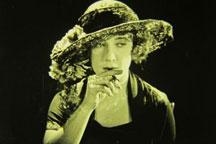 Play Video
Now this next film won't show up at your local multiplex, but it certainly is getting a lot of attention in Hollywood. Film preservationists in New Zealand say they've found the first half of the earliest known surviving feature film on which Alfred Hitchcock has a credit. It's a silent melodrama called "The White Shadow."
The first three reels of the six-reel film, made in 1923, were discovered by the National Film Preservation Foundation at the New Zealand Film Archive and are being preserved by Peter Jackson's production company.
"The White Shadow" was directed by Graham Cutts, and the 24-year-old Hitchcock was credited as writer, assistant director, editor and art director.
According to the National Film Preservation Foundation, the three "White Shadow" reels were found among films donated to the archive by the family of New Zealand projectionist and collector Jack Murtagh.
No other copy of "The White Shadow" is known to exist.
Brian Scadden, Head of Laboratory, said, "Obviously this is the only print in existence so we obviously have to be very careful about the way we do preserve it."
Hitchcock, who died in 1980, broke into filmmaking in his native London in 1920, working as a title-card designer and working up through the ranks as a writer and assistant director.
Hitchcock made his own directing debut with the chorus-girl melodrama "The Pleasure Garden."
He went on to direct such suspense classics as "Psycho," "The Birds," and "Rear Window."
A restored print of "The White Shadow" will be shown at the Samuel Goldwyn Theaterin Beverly Hills in late September.
Editor:Zhang Pengfei |Source: CNTV.CN