Watch Video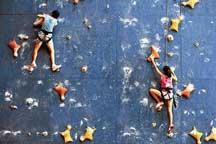 Play Video
Students and kids always look forward to the Summer holidays. This year, a variety of summer camps are proving popular with students and parents. Now we'll take a look at what the children are up to at a camp held by the Chinese Mountaineering Association in Beijing.
There are more than 30 students here, ready to take on a difficult challenge for kids of their age. Its a 15 meter tall climbing wall. For a bunch of 8 and 9 year-olds, it's a tough climb.
Warming-up is important and safety is vital. One nine year old girl quickly climbs 7 meters. But drops down when she feels like she doesn't have any more energy. After her, other students begin giving it a try.
Jiang Qixuan, student, said, "I have tried my best. At the very last, I just couldn't do it."
Zhu Xiangqian, coach, said, "If they can bravely take the challenge, although it is very difficult for them to finish the task, It's possible for them to almost reach the top."
Summer camps offer students and children the chance to do sports during their holidays, as well as learn a little about independence.
For some of the students its their first time to leave their parents and stay together with people of their age. Here, they can promote their communication and team-working skills through the camp's activities.
With smiles on their faces, and so much to gain from their summer adventure, the children head off to camp holidays.
Editor:Liu Fang |Source: CNTV.CN