Watch Video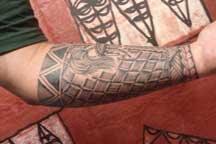 Play Video
The Samoa island nation is regarded as the birthplace of tattooing and takes credit for some of the largest and most intricate patterns in the world. While traditional designs and techniques have enjoyed a revival, the patterns are becoming smaller, simpler and more accessible to younger generations.
Tattooing plays a crucial role in the traditional culture of Samoa - even the word tattoo is from the Samoan word "tatau".
The traditional male tattoo, the pe'a, stretches from the waist to the knees with intricate designs and areas of solid black ink.
The traditional tattoo for females, the mulu, covers the thighs with a series of cross-like patterns, and takes around four hours to complete.
Master tattooist, Petelo Suluape, is from one of Samoa's two traditional tattooing families.
Petelo Suluape, traditional master tattooist, said, "This part of our culture has been in the country since the beginning you know, and it's part of our life that every man has to be tattooed. That's why we call it 'tatau' which means 'must', 'one must do'."
In Samoan culture, tattooing was traditionally an initiation into manhood. With almost everyone in Samoa sporting at least one tattoo, the art is still hugely popular.
Although some changes have been made for hygiene reasons, the traditional tool, made of a boar's tusk or a pig's tooth attached to a stick, is still used today.
Michael Hickey runs Urban Village Tattoos, a modern tattoo studio in Apia which draws inspiration from traditional Samoan designs. Hickey's designs incorporate traditional patterns into modern layouts.
Michael Hickey said, "It has definitely become a fashion art now. A lot of people are getting the armbands, females, the little more delicate pieces around the ankles, wrists, forearms and yes, very, very popular with the young people as well."
Despite the availability and popularity of modern alternatives, both Suluape and Hickey say they are confident that traditional tattooing will retain its place in Samoan culture.
Related stories
Editor:Liu Fang |Source: CNTV.CN