Watch Video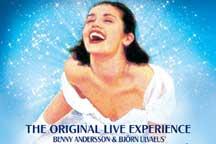 Play Video
Early in July, the Chinese version of "Mama Mia" received five curtain calls when it premiered at the Shanghai Grand Theater. The 32 shows in Shanghai have reached an expected box office of over 16 million yuan, or some 2.5 million US dollars. Such a good beginning has brought local insiders new hope that Chinese audiences will catch musical fever.
The Chinese version of "Mama Mia" is not only performed in Mandarin on stage, but made mainly by a Chinese team off the stage. The investor, China Entertainment Group, is credited with the success to such a localized production.
Tian Yuan, producer of "Mama Mia!" in Chinese mandarin, said, "We brought the English version of Mama Mia to tour around China in 2007. The ticket price was more than double the Chinese version. Back then, the cost couldn't be covered until you staged the 17th show. The cost to stage the imported English version is too high for theatres in small cities, but the Chinese version has lower budget that is acceptable for venues outside of Beijing, Shanghai and Guangzhou."
Not only bringing in western musicals or translating them into Mandarin, Chinese investors and insiders have also created their own original productions. In the past ten years, some 200 musicals were born in China, all spawned in the "musical" genre. The 2007 production "Butterfly" is the most successful attempt so far. It was backed by the biggest investment of an original musical in the Chinese mainland, and was written by the country's talented veteran composer San Bao. However, there is still a long way to go to present a classic one like "Mama Mia," "Cats" or "Les Miserables." One major reason is because the musical form is far less well-known in China.
San Bao, musician, said, "The key is that not many people know much about musicals and not many people have watched one before. Many people think that a musical is no different than an opera or a drama. Staging western musicals might help change that way of thinking."
Chen Weiya, director, said, "Many insiders insist that China should develop its own musicals. We try and some are good. And now we have the Chinese version of western musical. I think it's good to the development of Chinese musicals. We learn from western musicals, digest it before we make our own."
For the past century, musicals have entertained millions in North America and Europe with their innate ability to blend every art form. Now, they are performed all around the world, in large venues like London's West End and New York's Broadway theatres as well as smaller fringe theatres.
Editor:Liu Fang |Source: CNTV.CN