Watch Video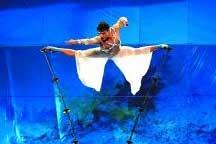 Play Video
China Acrobatic Troupe's latest production, "Acrobatics Dreamwork", made its debut last Saturday evening at the wing hall of the National Indoor Stadium. Now, let's have a look at what makes the show so appealing.
The acrobatic troupe is the first to take up residence in the National Indoor Stadium since the Beijing Olympic Games in 2008. Along with super-human feats of strength and agility, there will be magic and humor in the high-quality programs.
To ensure audience comfort and improve the aesthetics of the performance space, the China Acrobatic Troupe invested nearly 100 million Yuan to renovate the hall.
Zhang Hong, general manager of China National Acrobatic Troupe, said, "Now that the National Indoor Stadium is our new home, we can provide audiences with an intimate experience of the charm of Chinese Acrobatics. "
The renovated U-shaped stage is 20 meters high and 21 meters across. It is enclosed by raised chairs, allowing an elevated perspective even to those sitting in the first row.
The overarching themes for the show are "Mystery" and "dream."
He Xiaobin, chief director of Acrobatics Dreamwork, said, "The show, 'Acrobatics Dreamwork', is different from the acrobatic performed in the past. This show is experimental and creative with new ideas on many aspects such as stage design and lighting."
The style of the show tends to be somewhat relaxing, recreational, and interactive.
The troupe's Diabolo performance was the winner of the French Republic President Award at the 26th Tomorrow Circus Festival in France in 2005. The choreographer has rearranged to fit the show and increased the difficulty, thus making it more thrilling and appealing.
Meanwhile, one of the troupe's other shows, "Super Circus", is planned to kick off around New Year's Day in 2012.
Managers for the China National Acrobatic Troupe expect to receive some 600 thousand audience members each year to their new home at the National Indoor Stadium.
Related stories
Editor:Liu Fang |Source: CNTV.CN