Watch Video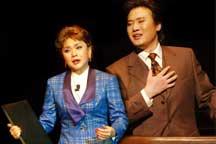 Play Video
At the National Aquatic Center, an opera was staged on Friday to mark the 100th anniversary of the birth of Qian Xuesen, one of the greatest scientists in the history of modern China's space development.
Qian was among the first groups of Chinese students being sent to overseas institutions to study science and technology.
The Opera, called "My Heart Soars", tells the life story of Qian, from his early days of studying abroad, to his returning to the country and all the major progress he brought to China's technological advancement.
The opera is presented by the Opera Troupe of the General Political Department of the People's Liberation Army.
The Water Cube opened in 2008 as the venue for swimming competitions during the Beijing Olympics Games.
To accommodate the opera, a platform rising above a shimmering water surface was designed to give a unique ambience and better acoustics.
Editor:Liu Fang |Source: CNTV.CN