Watch Video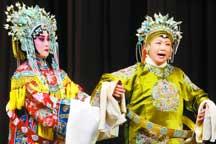 Play Video
The first ever national invitational competition for young Peking Opera performers is being held at the Mei Lanfang Theatre in Beijing. Youth from Peking Opera Theatres all over the country have gathered in Beijing not only seeking top prize, but also to learn from each other.
For youngsters, it's a rare opportunity to perform on such a grand stage, thus they take it very seriously. Zhang Xinyue is a young performer from Beijing Peking Opera Theatre. She arrived in the Theatre early on the day she was to perform, first preparing costumes, putting on make-up and then rehearsing with musicians on stage.
Zhang Xinyue, Peking Opera performer, said, "Playing the leading role of the whole play is quite different from performing in one certain scene. It will give me so much experience."
Many experienced performers are also invited to the competition to play supporting roles. Competitors are able to learn from them both on and off the stage. And supporting the youngsters is one thing the experienced players love to do.
Li Hongtu, head of Mei Lanfang Peking Opera Troupe, said, "We didn't have opportunities like this when we were young, so we definitely would love to help them as much as possible. Gaining experience is more important than the competition itself."
In the following days, competitors from other troupes such as Fujian and Taiwan will be competing on stage. In all, more than 20 classical plays will be performed.
Editor:Liu Fang |Source: CNTV.CN