Watch Video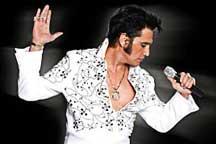 Play Video
Tuesday marks the 34th anniversary of Elvis Presley's death. Every August, fans from all around the world pay tribute to the American icon. And one loyal Malaysian fan of Elvis is paying tribute to the King of Rock and Roll in the best way he can, by doing an impersonation.
After some make up and getting dressed with the Elvis style belt, Frankie Fong is preparing for "Elvis Night", which will be held on the August 21st in Kuala Lumpur, capital of Malaysia. Every year, fans mark Elvis Night in August, and thousands of them will watch the tribute performances by Elvis Artists. Fong said he started singing Elvis's songs as a child. He followed the footsteps of his father who was a local singer in the 1970's.
If Elvis were still alive, he would be 76 years old now. Everyone has his own reason to come to love Elvis. Even Fong was born two years after Elvis' death, still he was touched by the legendary artist's special way of singing.
Franie Fong, Elvis tribute artist, said, "I love the way he sang, the way he moved and lot of emotion to the songs; How he sang it by his own way. He put all the emotion into the songs and making like it really happened."
Fong called himself the "Elvis of Malaysia," and he said he can sing more than 100 songs of Elvis comfortably besides playing the guitar. He mentioned two key points to be an Elvis impersonator.
Franie Fong said, "The most important is your vocal and your movement. If you haven't these two important things, I just kind of think, its difficult to become an Elvis tribute artiste."
Of course a fan will never miss his idle's collections.
The "Elvis Presley phenomenon" has maintained its cultural and social impact following his death. Now August has been called the Month of Elvis by his Malaysian fans. And in the eyes of these 'Elvis diehard fans', Elvis will never die.
Editor:Liu Fang |Source: CNTV.CN