Watch Video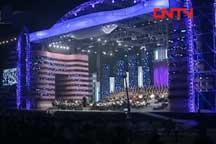 Play Video
Daniel Barenboim conducted the West-Eastern Divan Orchestra on Monday near the border separating the two Koreas.
The orchestra played the Beethoven's Ninth Symphony at a border city near the demilitarized zone to celebrate the 66th anniversary of liberation of the Korean peninsula from Japanese rule.
The final chorus from Friedrich Schiller's "Ode to Joy" was also featured in the concert, which was organized to encourage peace on the peninsula.
An estimated 10-thousand music lovers gathered at the border city to enjoy this rare concert. No one from the Democratic People's Republic of Korea attended the concert.
70-year-old Lee Soo-won said, "I am really impressed with the good performance for our reconciliation and unity. I wish we could have the day of reconciliation and unity soon."
46-year-old Kim Kyong-mi said, "Peaceful unification is our wish -- I am thankful for the concert expressing our wish with music instead of words."
Sumi Jo, soprano, said, "We can share the sacred and important message of peace that we all are brothers as one through music at this performance. This concert will remain in my memory. I will never forget this concert."
In 1999, late Palestinian scholar Edward Said and Jewish musician Daniel Barenboim, born in Buenos Aires in 1942, formed the West-Eastern Divan orchestra, composed of musicians from Israel, Palestine, and other Arab countries.
Barenboim and Said named the Orchestra after Johann Wolfgang von Goethe's collection of poems entitled "West-Eastern Divan", a central work for the evolution of the concept of world culture.
The West-Eastern Divan Orchestra has proved time and again that music can break down barriers previously considered insurmountable.
The only political aspect prevailing the West-Eastern Divan's work is the conviction that there will never be a military solution to the Middle East conflict, and that the destinies of the Israelis and Palestinians are inextricably linked.
Through its work and existence, the West-Eastern Divan Orchestra demonstrates that bridges can be built to encourage people to listen to one another.
Editor:Liu Fang |Source: CNTV.CN